49th Merdeka Mural
Ok. So we finally finish the 49th Merdeka Mural at the gallery. The whole event was laucnhed on the 15th by our very own Menteri of Kebudayaan & Kesenian, YB Rais Yatim. Thanks to the Balai people for giving us this great opportunity. Was one great experience!
Save yourself first.
MYSO Graff Comp @ Cineleisure
So MYSO graff comp just finished. Sopey crowned as winner, Kioue, Katun, Sixthie and Wild Channel Designer group were the runner ups respectively. You can visit vector11.blogspot.com for extra pictures of the artworks. Congrats to the winners. Altho i think this comp should've had more people involved rather than just 5 of them. Lets hope for one in the future.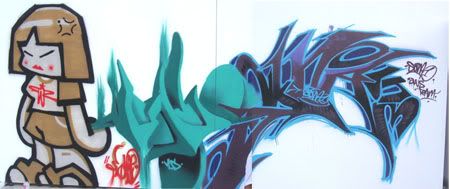 Above: A little showcase we did. Was just planks for us to have fun with.