Kuantan
Kuantan
Sws just got back from Kuantan. We had 2 walls (or more) waiting for us at this
Tiara Kids Kindergarten
. Anyway, this trip was a major holiday trip for all 4 of us. Had the beach, great food, great walls, great place ... nothing could've stop us from having the fun we had. Anyway, below are pictures from the trip. Enjoy. And happy birthday SWS! 2nd anniversary people.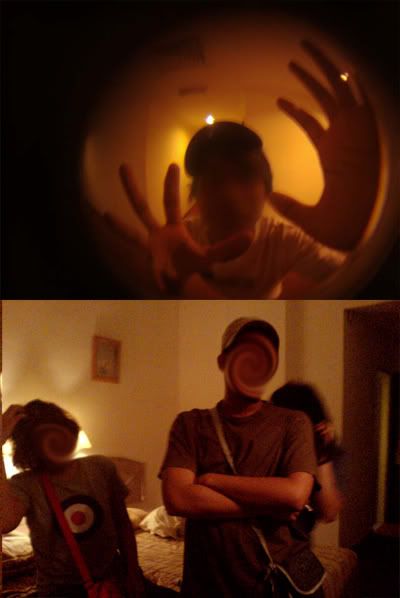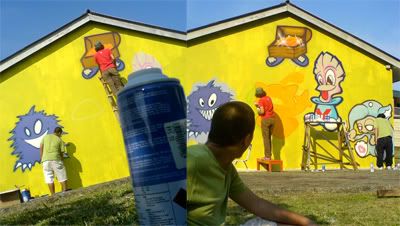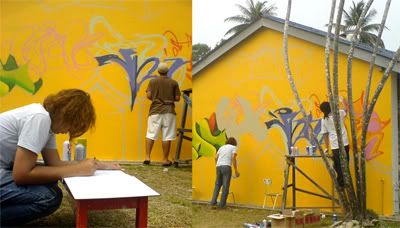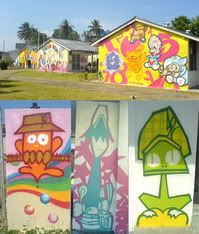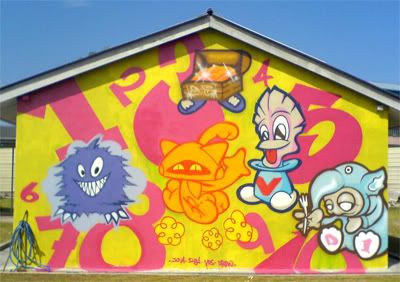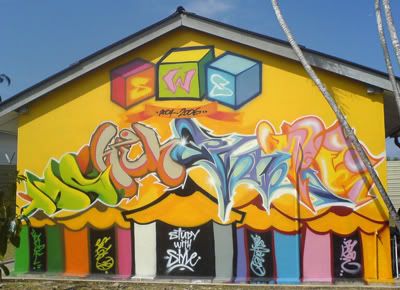 .vdshieksonapek.



Sketch
Last night we went to Sona's place and had some discussion for a new project. This weekend the whole crew will be going down to Kuantan for 2 walls are waiting for us. hehe, .. anyway, this is a sketch using markers, and photoshop as well. Cheers. Sembur people.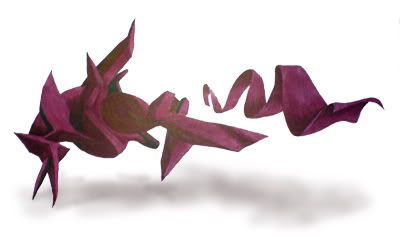 Nouvo
This was actually done almost a week ago, just a night before the collaboration with V11. Picture's a little blur, but i guess its ok ah. Was done at Nouvo in conjunction with a launching of some party with Pepsi if i'm not mistaken. Anyway, this 2 plank piece is a collaboration of Sona, Kioue, Phobia & Vds212. Cheers.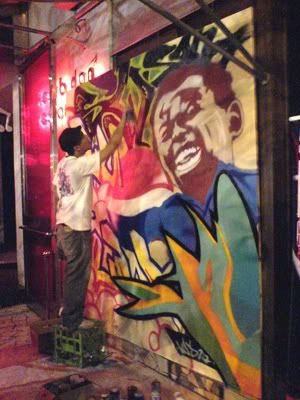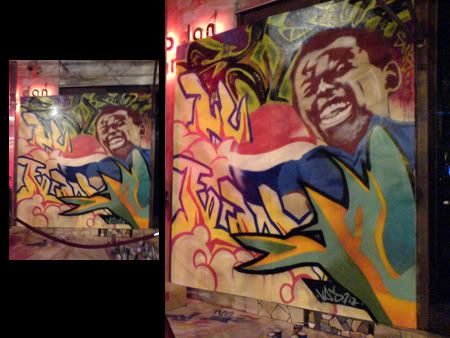 New Production
A collaboration with V1.1 & Phobia Klik. Line up from left to right - Sopey, Drew, Kioue, Phobia, Vds212, Mad, Sona, Medea, Nasz & Cake.
Here's a bigger version of what i had done from the recent collaboration. Thanks to Drew for the pic. U can click on the whole line up for a more bigger sized picture of the whole thing. Cheers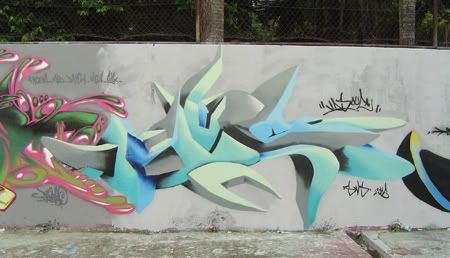 SUNSET from 16th Floor
Below is a picture of sunset taken yesterday. When I saw the orange from the window, I took my cam and ran straight to snap pictures. I guess this one of the best I manage to catch. But its crazy wat the sun can offer man. Damn! Enjoy

Nothing was edited
SINGAPURA TRIP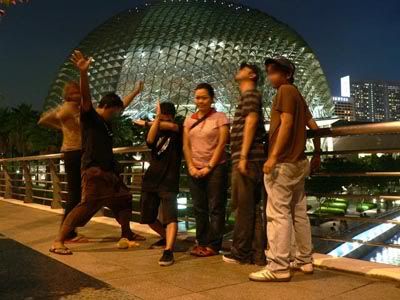 It was practically fun all the way! We took a bus at 3 on friday, arrived at this hotel at waterfront and took a cab to Hotel 81. This hotel is famous for their 2 hours rates, hehe .. untuk orang2 nakal buat kerja nakal. Haha, .. we honestly had no idea about the whole thing until every singaporean kept giving us the same reaction when we mention the place. Haha ..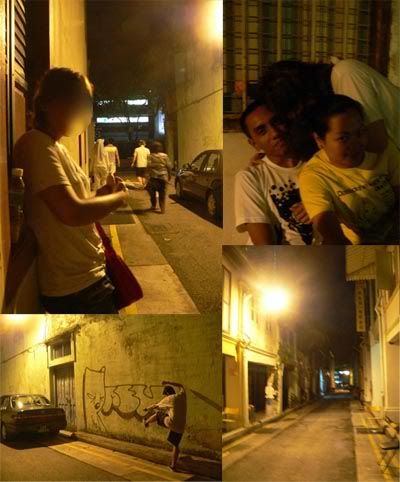 So after unpacking and stuff, we went down to Arab Street to meet up with Artvst. I msg'd the guys from PB but it seems that it wasn't delivered to them at all. So sorry for that guys. It was quite a problem for both Shieks n me with the phone issue there. This Arab steet is so fucking cool man. It's almost like the arab street here, ... but i guess its more laid-back comparing the location, people .. n wateva la. After that we went to this 24hour shopping mall, .. macam Maidin sial, penuh gila rabak ngan manusia. Tapi barang2 agak best.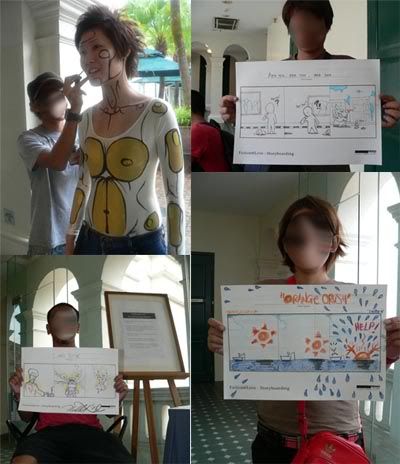 The morning after, we head for SAM (Singapore Art Muzeum) cause Zero has an exhibition going on. Fuck, going through the work in there memang really inspiring sial. But after u exit, they have this thing where u can illustrate a comic strip of not more than 3, ... but it has got to relate with the whole event ah. But i didn't know that until i was done. Hahaa .. 3 of us main bantai lukis je. It was open for singaporean only, .. but who gives a shit when u got free paper to draw right?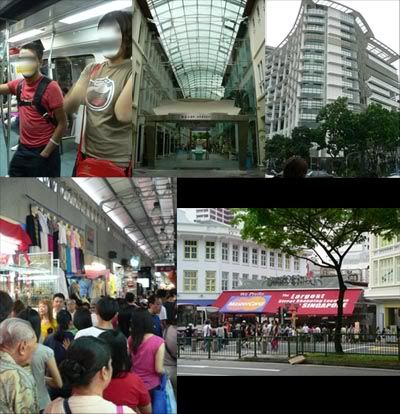 After that, we went to bugis, it was like petaling street la. But the stuff inside is way way better that p.s.

Aku ngan shieko sempat lagi jam kat Gashouse before kena halau. Muahahha!!! Butter for life! Yeay!
Gashouse is where PB and few other guys were having their exhibition and a showcase as well. When we got there, they weer about to start putting up the planks, .. and we had to make our move to some other place due to our 'jadual' was quite tight since shopping had to be done. Anyway ...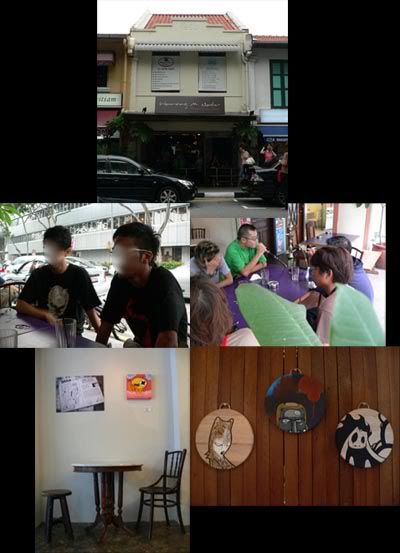 Warong M. Nasir. Orkibal is having his solo exhibition here. And no its not the 'M. Nasir' .. i was dissapointed gak. Hahah .. its actually an indonesian food place ah, .. opened by this indonesian dude who shares the same name. But agak cool ah ... makan and exhibit ur work skali. Best.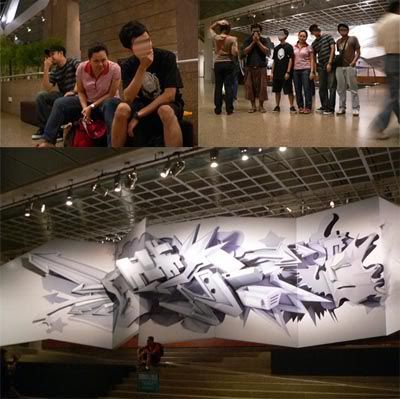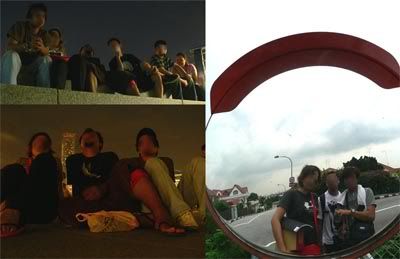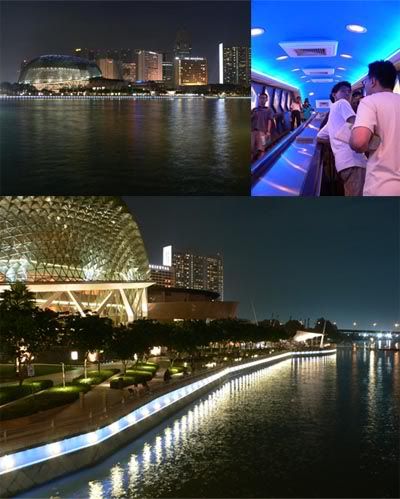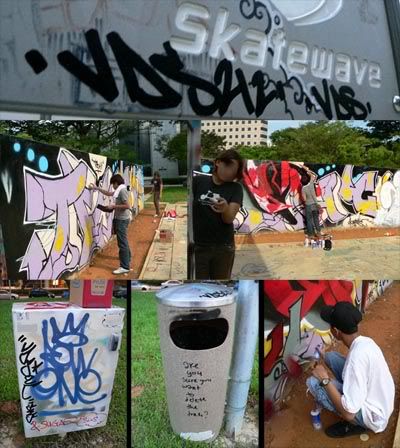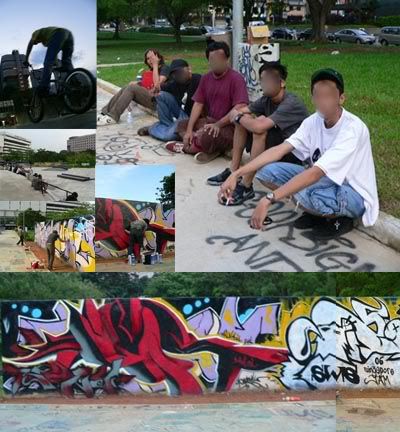 So now the painting day. Eveyone was busy with work, or something else was going so akhirnya tinggallah aku dan shieko untuk paint. I dunno what happened to the rest, .. but painting at Somerset nyer skatepark was very different. I guess the scene in singapore is much more alive than here, ... One minute ur painting, the other minute comes a guy behind you all sweaty after hitting Fakie-Noseslide on the fun box. Gile dowh. But best ah ... Mr. Daddy Cool aka Bony decided to pinjam some of the cans we brought and bantai skali the wall. Haha .. best!


After the whole session kat Somerset, we went to Kopitiam dekat Youth Park derang. It was just behind the skatepark, .. Syco, Bony, Trase, 1.2 Delta n Lil Pink Devil was there as well. I have to thank to a lot of people for making this trip gile 'gerek'. Haha ... Thanks to Gerbil, Zero. Ork, Phuek n Mrs. Phuek for cramping their legs taking us around. Thanks to 1.2 Delta for the space you provided, it was very homely and we cant thank enough. And lain kali jgn tido kat kerusi luar, join skali! Thanks to Zero, Man, Bony, Trase, Syco, AshD, Asno and the rest of the guys for having the time to meet up. And to the rest yg tak sempat aku nak bertegur, sorry ah .. agak kelam-kabut cause this is my first time in singapore so i was freaking blur man. And i had no idea who is who except for those who i have met before. Hope my next trip we could all do a production together. Again thanks to everyone ah .. others yg tak mention, thanks a lot guys. Singapore was hell fun! Very inspiring. Definitely a city that roars man! Cheers!